When you choose Pomfret, you are choosing to be heard.
Dear Prospective Family,
Iam thrilled that you're interested in learning more about Pomfret and life on the Hilltop. If this is your first time visiting pomfret.org, I encourage you to explore the full website, follow us on social media, and — when you're ready — fill out the inquiry form. You can access the inquiry form from the upper right hand corner of this page.
Letting us know that you're interested in Pomfret is the first step in the admissions process. Once we receive your inquiry, we'll add you to our mailing list and begin sending you detailed information about the admissions process, fun videos and resources to help you learn more about Pomfret, and invitations to upcoming events. Don't worry — we won't flood your inbox and you can ask to be removed at any time.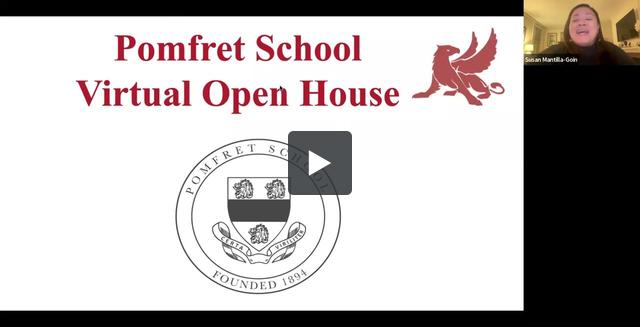 Communication is a two-way street, so don't let us do all the talking. We want to hear from you. Let us know if you'd like to connect with an admissions officer, a faculty member, a coach, a parent or a student. We love sharing the Pomfret story and are happy to answer any of your questions. At Pomfret, we are inspiring the next generation of students of change makers and problem solvers. So take a look around, and when you're ready, speak up. We'll be listening.

Sincerely,
Susan Mantilla-Goin
Dean of Enrollment Management

Application Deadline
Financial Aid Deadline
December 15 for Returning Families
February 1 for New Families
Our Admission Decision
Your Reply Deadline