Set on a stunning hilltop in rural Northeastern Connecticut, Pomfret has been called one of the most beautiful schools in the world.
Studded by maples and ringed by stone walls, our 500-acre Hilltop campus exudes New England charm. The original buildings were designed by the celebrated Beaux-Arts architect Ernest Flagg and the grounds were laid out by world-renowned landscape architect Frederick Law Olmsted.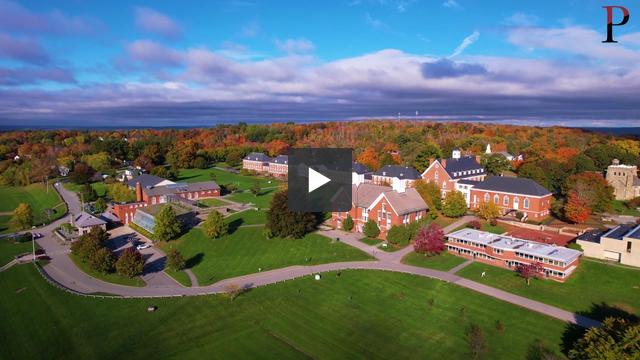 Today, the Hilltop is a wonderful amalgam of old and new, blending iconic landmarks like Clark Memorial Chapel with airy facilities like the Centennial Academic and Arts Center.In addition to this manicured campus core, Pomfret is bounded by several hundred acres of open space. The wilder side of Pomfret includes natural meadows, forested uplands, miles of walking trails, and Wappoquia Brook. This Quiet Corner of Connecticut is less than an hour from Boston, Hartford, and Providence, and only three hours from New York City.
There are two good restaurants within walking distance of Pomfret. For lunch, we recommend the Vanilla Bean. For dinner, we suggest Grill 37. Downtown Putnam also has a number of good options, including 85 Main, the Hare and the Hound, and Elizabeth's Farmhouse.
The Quiet Corner is home to a number of small bed and breakfasts, and a smattering of larger hotels. The Comfort Inn and Suites in nearby Dayville is a solid budget-friendly option. The Inn at Woodstock Hill in Woodstock and The Gwyn Careg Inn in Pomfret are also wonderful choices.
Pomfret School to Blodgett Boathouse


Go North on Rt. 169 & 44 East toward the Vanilla Bean (I mile)
Turn left onto Rt. 97 (.7 miles)
Turn right onto Quasset Road lake will be on your left (2.5 miles)
Sharp left turn onto West Quasset Road just after the lake
The entrance to Blodgett Boathouse will be on your left just before the road turns to dirt ( .2 miles)
Please note: Parking is limited. You will be directed to a parking location by Pomfret staff.